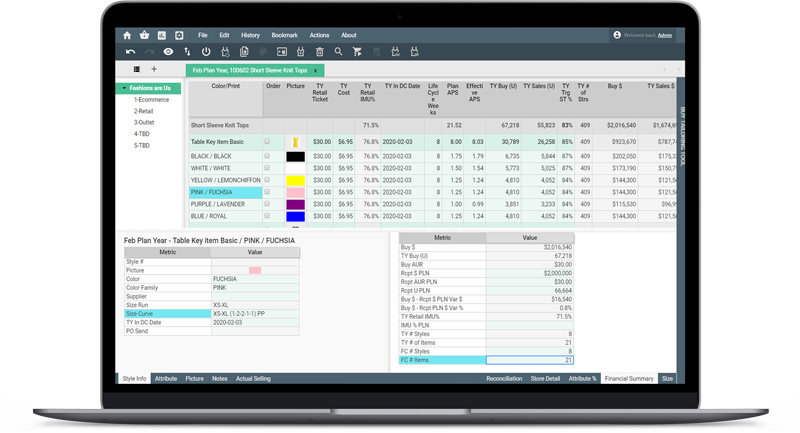 What is daVinci Assortment Planning?
Get back time… daVinci Buying eliminates manual, time-intensive, and error-prone tasks that have been plaguing merchant teams. Now you're ready to focus on improving the quality of your buys. Merchants can fine-tune their buy quantities to tailor to specific markets. daVinci Assortment Planning includes an additional calculation engine designed for multi-channel, multi-door retailers to improve micro marketing customer-centric buying. Just as daVinci Buying improves team productivity, daVinci Assortment Planning elevates the team to the next level of buy decisions to improve margin and profitability by 2-5%, making daVinci Assortment Planning the best assortment planning software available today!
Centralize. Integrate. Automate.
Backed by a single, centralized enterprise database. All your buyers, planners, allocators, and managers can work simultaneously with everything in one place and integrated with your internal systems.

Eliminate team stress and management frustrations from looking at inconsistent data at those weekly meetings. Get standardized reports with up to the minute updates at the push of a button. Data updates automatically from your internal systems without user intervention.

Seamless integration to your PO system to eliminate duplication of data entry. Commit buys with a single click and sends information directly to your PO system without re-keying.

daVinci Assortment Planning streamlines the entire merchandising team's buying activities and shortens merchandise procurement lead time.
Insight Driven
We've been honing our craft for over 15 years at daVinci. Before that, we were retail merchants and planners. We've taken all that experience and embedded it into our application.

You benefit immediately from our out-of-the-box retail analytics capabilities not possible in spreadsheets. Our pre-configured reports incorporate industry best practices such as on-demand storyboards and product mix analysis.

New insights lead to better understanding, lead to additional questions and what-if scenarios while you plan, not seen with existing BI tools.
Tailor your Buys
Create unique assortments for each micro market using daVinci's multi-dimensional buy tailoring tool.

True to our namesake, daVinci, and in keeping with his motto "simplicity is the ultimate sophistication," daVinci Assortment Planning utilizes our trademark CCI (Complexity Compression Interface) to deliver multi-faceted, high density, and multidimensional data elements to allow merchants to plan unique assortments in a single view at the click of a button, replacing hundreds of individual spreadsheets.

Plan by omnichannel, multi-commerce, multi-door/store, or multi-dimensional micro-market clusters to cater to your customers' unique needs.

Incorporate product attribute characteristics for each unique micro-market and product category for ultra granular mixed planning.
Precision Buy Quantification
Simplify buy quantification for merchants through the use of robust behind-the-scenes multi-layered calculations taking out the need for guesswork by invoking a proprietary calculation engine designed for multi-channel micro assortments.

Built-in constraints ensure business realities such as vendor or presentation minimums are accounted for in buy calculations.

Powerful aggregation and spreading capabilities to ensure the buy quantity feeds the right stores, providing Allocation with the roadmap they never had.
Insulate your Enterprise
Staff turnover is a business reality today. Ensure your plans are secure and accessible even when your team member leaves the company.

Created by merchants for merchants, our highly intuitive assortment planning application ensures new team members can pick up quickly, minimizing the impact of downtime. daVinci quickly becomes the go-to application of choice for merchants.

With automated data integration from other internal systems to ensure you get "one version of the truth" from everyone on the team.

Standardized reports at the click of a button eliminate the need for spreadsheet-style pivot reports that only one person in the company knows how to run.
Built to Grow with You
Designed and purpose-built for large enterprise retailers, daVinci Assortment Planning was architected with robust, full-featured, modular capabilities that enable daVinci to grow with you.

Highly flexible, utilizing industry-standard integration allows you to change your other internal systems with ease and with minimal impact to your merchant team.

daVinci is your mission-critical connection that bridges your strategic merchandising direction and financial goals and your open-to-buy to your supply chain.
The right items in the right quantities
Tailor buys according to customer demand for improved sell-through.
Ensure each assortment is perfect with advanced analytics
The data you need to get the buy right from the start.
Create a central hub for your business
Holistic solution and shared resource for buyers, planners, allocators and management.
Enterprise features


Powerful planning for even the largest retailers

Increase competitive advantage with artificial intelligence and advanced analytics.
Connect to your Strategic Financial Roadmap
Compliment your daVinci Assortment Planning solution with daVinci Merchandise Financial Planning to ensure the synchronicity of buy execution with the financial roadmap and constant visibility to your Open-to-Buy (OTB).