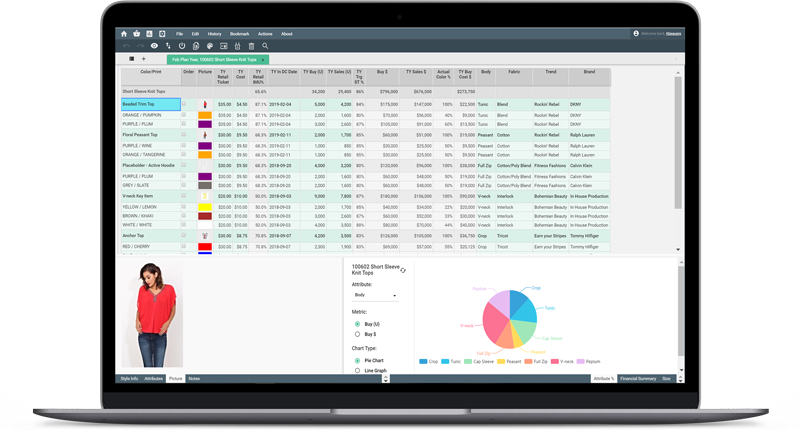 What is daVinci Buying?
daVinci Buying is a planning software for retail designed to eliminate individual spreadsheets on users' desktops, which are error-prone and inaccessible to other parts of the organization. daVinci Buying is a collaborative platform that unifies all buy plans into a highly intuitive, merchant-centric cloud application, backed by a centralized enterprise database. daVinci's retail management system provides visibility to open to buy and to the individual merchant level to any summary level to provide a 360o view of your business in real-time. daVinci Buying transforms the way retailers manage their buying process by improving efficiencies, so merchants can get back time to be merchants.
Improve buyer productivity by 25%
How much time do you spend importing, copying, pasting, and massaging data for management reporting every week?
One version of the truth
Studies show – 88% of all spreadsheets have errors. It's not surprising. Just think, the overwritten formulas, data entry typos, inconsistent calculations, suspect data sources…
Mitigate Risk
Change management in any organization is a concern. User adoption tops the list of reasons for failed system implementations.
Better Buy Decisions
Now that you know you can trust the numbers and eliminated the manual work with automatic integration, you can leverage our best practice analysis to make better decisions.
Organization Agility
In today's competitive retail landscape, the business reality is constantly changing. How quickly can your organization react to change?
Extend daVinci Buying with Apps
From productivity tools to deeper retail analytics, let daVinci takes your buy planning to the next level.
Check out our Item Planning Application which extends your team's productivity and buy precision for those never-out-of-stock key items that you need to monitor and adjust your buys for constantly.
Connect to your Strategic Financial Roadmap
Compliment your daVinci Buying solution with daVinci Merchandise Financial Planning to ensure the synchronicity of buy execution with the financial roadmap and constant visibility to your Open-to-Buy (OTB).