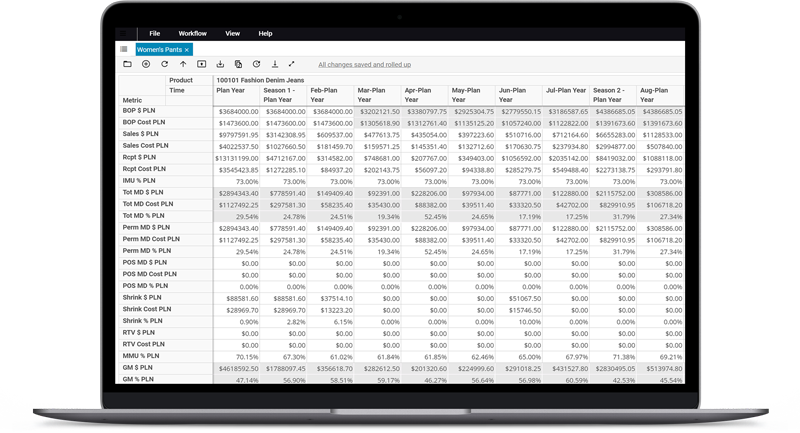 What is daVinci Merchandise Financial Planning?
daVinci Merchandise Financial Planning is a software application that gives retailers the ability to develop and manage their strategic financial merchandising goals. Your demand planning team can identify opportunities to increase or decrease product category inventory investments according to trends, margin goals, and merchandise strategies from senior management. These merchandise plans and detailed open-to-buy (OTB) plans provide a critical roadmap for buying and managing inventory levels to drive profitability and maximize inventory turns for every channel of your business.
Maximize your Potential in Every Product Category
Analyze past results and current strategic direction to construct your merchandise plan by channel with visibility to the top hierarchy levels.

Identify category opportunities to increase or decrease based on trend or forecast.

Model what-if scenarios and multiple versions to keep track of conservative or aggressive strategies to achieve your financial goals.
Optimize Inventory Levels
Connect your inventory planning to your sales goals by channel or at the total level for maximum flexibility and visibility to meet demand.

Incorporate markdowns and other reductions into your inventory and receipt plans.

Leverage built-in industry best practice key performance metrics to improve your inventory investment.
Increase Margins
Account for margin influencers like shrink, transfers, returns, and adjustments.

Make comprehensive plans for promotional and/or permanent markdowns.

Maintain constant visibility to each channel's key margin metrics and at the total company to ensure your merchandise plans achieve profitability goals.
Pre-season and In-Season Planning
Robust plan seeding capabilities and seamless integration to in-season actualization to reduce the amount of manual data manipulation.

Enterprise approval capabilities to protect plans throughout the enterprise: multi-user; multi-manager; streamlined approval process.

Flexible in-season open-to-buy (OTB) planning to adjust to changing business needs.
Confidence in the Process
Centralized multidimensional database with a guided workflow to ensure standardized planning for the entire team.

A robust calculation engine provides the team with confidence, a single version of the truth, at any level by any channel or business. Use a top-down or bottom-up approach at any level of your merchandise hierarchy.

Seamless integration with actual updates and buy reconciliation to daVinci Buying and Assortment Planning to ensure adherence overall financial plan.
The first advancement in merchandise planning in over 20 years
All the merchandise planning features you need with a web-based interface.
Plan in greater detail
Create a single enterprise-wide plan for each retail channel including e-commerce and wholesale. Plan IMU goals and show their impact to the bottom line.
Enterprise features


Powerful planning for even the largest retailers

daVinci Merchandise Financial Planning has powerful features and artificial intelligence to take your enterprise's planning to a higher level.